Boot Camp / Group Personal Training frequently asked questions
How hard are your Boot Camp / Group PT classes?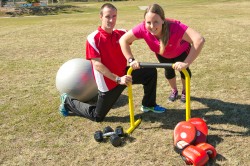 As hard as we can make them whilst ensuring you're still smiling at the end!  We're here to push you, motivate you and get more out of you than you would get anywhere else. We believe a big part of this is ensuring you enjoy the session and of course remain injury free. So while we'll make you sore, we won't make you sore and sorry! Our Trainers will push you to boost your ego, not their own!
What exercises do you do?
You name it we throw it in! We also aim to include a heap of variety that you won't find elsewhere.  Some of our favourite tools of the trade are functional training, Cross Fitness, HIIT, Kickboxing, Boxing, body weight exercises, ab work, fit balls, medicine balls, kettlebells, battle ropes, suspension training, ViPR's plus a heap of Gym gear if you come to our Studios. So be prepared to run, jump, punch, kick, lift, pull and grunt and groan every way possible. Just as important are the exercises we don't do, we put your safety first and avoid high-risk exercises that some Boot Camps are renown for.
I have injuries, can I still do Boot Camp / Group PT?
As our Boot Camp classes are small, and our Trainers are all experienced and professional, we can cater to many limitations and injuries. The best thing to do is to give us a call to discuss your concerns first. And to answer the question many people ask; NO, you are not too old, big or unfit to start!  Just check out these amazing results in our Boot Camps/ Group PT for proof!
I'm pretty fit, will it be tough enough?
We'll make you regret asking that question! Absolutely we can make it tough enough! Small groups mean we can personalise sessions and give the fitter clients harder versions of the exercises the less fit clients do. And if you're the fittest of the fit people, we always have some extra challenging versions in store! We've been in business since 1999 and have never had a person we can't make sore…of course assuming you want to be sore!
Why should I come to you and not your competitors?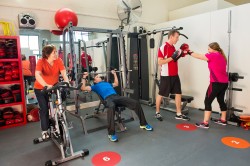 Ok, we're all going to claim to be the "best", but the only way for you to know if we're the "best for you" is to come along to a session and see if you click with our personalities and style of training. Forgetting our biased opinion that we're the best, let's look at some of the facts that set us above our competitors when choosing who to trust your body with;
We've been in business since 1999 and still have our first clients with us –
We've proven that we're dedicated to our clients' success for the long term We've grown to the third largest Personal Training and Boot Camp company in Australia – You don't do that without being better than your competitors
We're Fitness Australia registered and our CEO is one of 12 Fitness Australia Council members –
We're dedicated to the health and fitness of all Australians We've won the highest accolade in the fitness industry for our standards; the Fitness Australia "Gold Award" – And we've won it three times
We're fully qualified, registered and insured – At least 75% of Personal Trainers in parks aren't. Hint, if they say "less for cash mate", you can guarantee if you ever have an accident their insurance (if they even have it) won't cover off the books cash in hand jobs!
How much are your classes and are there contracts?
Our classes start from $29.95 a week, and we have different payment options to suit everyone's needs. There's no lock-in contracts, simply give two payments notice anytime to cancel. Request our latest timetable below to see what specials we have on in regards to joining fees and freebies! This gives you access to all of our classes Australia-wide.  We all work together as one big team so you can ensure you'll be looked after even if you train at several locations.
Where are you located?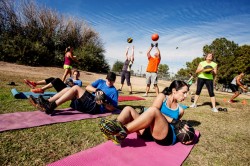 We have Personal Trainers for one-on-one sessions across much of Australia and our Boot Camps/ Group PT sessions are currently in many of the suburbs, get a full list of our latest times and locations below. If we don't have sessions in your suburb, odds are we have one-on-one Mobile Personal Trainers, search via your postcode here.  We're opening up more Boot Camp / Group PT locations soon based on demand, so let us know when and where you'd like!  As our classes are all kept small we'll often start up a new location or time slot if someone asks us, so ask away!
What do I need to bring?
Yourself, water bottle, towel and boxing gloves if you have some. Alternatively, you can buy them from us on the day. We'll bring the motivation and everything else!
How do I start your Boot Camps / Group PT?
Request our timetable below for a free session if you haven't yet. Or simply contact us or give us a call on 1800 783 678 for a chat or to book your first session! Bookings are essential for your first session, if you choose to join after that, bookings aren't required, simply just show up.

Make a start with a free Boot Camp session
Get our latest timetable and a free session