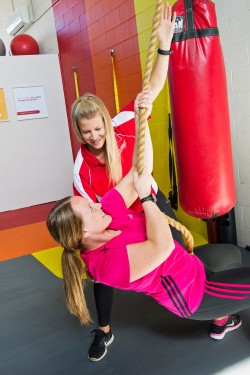 From Sweden to Australia, our Personal Trainer Ida (pronounced Eee-da) Gardqvist's love for travelling and helping people made her way to Australia to study PT.
Gymnastics in Sweden
Growing up in the small town of Sala in Sweden, Ida did both horse riding and competitive gymnastics. Gymnastics got her to compete in the highest youth level in Sweden for team gymnastics. Before deciding Personal Training was the way to go, Ida worked with children as an after school activity leader and also as a gymnastics coach. She knew she wanted to work with people and help them have a better life, so that in combination with her love for travelling, she decided to go to Australia and the Sunshine Coast to study Personal Training.
Functional training style
For Ida, the favourite part of being a Trainer is when you see the light come on after you explain something for your client and they understand it.  It's amazing to see clients learn new things and understand how the body is affected by training and lifestyle changes, for example when they improve their health and become stronger their knee pain that is caused by weak muscles may go away. Ida's training style is functional movement and rehab, she likes working with free weights with her clients.
Five questions with Ida Gardqvist:
What is your biggest achievement as a Personal Trainer?
When I trained a post stroke patient and she improved so much in just 4 months. In the end of each session she always was so grateful and nearly cried of joy.
What is your most memorable training session?
Every session is memorable, there is always something I take with me after each session and there is never a bad day in this job.
What is your favourite exercise as a Trainer?
Dead lifts.
What is your favourite exercise or sport outside of work?
I like training in the gym, and I also do a lot of yoga.
What is your favourite quote?
"The body achieves what the mind believes."
Check out some of our other trainer bios; our first Sydney Trainer Sue based in Bondi, Brisbane mobile Trainer Tanja who loves running and our newest Melbourne franchisee Demi!