Private Personal Training
Barbara started Personal Training sessions at our 100% private Personal Training studio in December 2016. She felt like she was turning into a real "couch potato" and already had some issues getting off the lounge! Barbara also has a very demanding job as a bookkeeper, and due to having to work long hours sitting down, led to her neck and shoulders getting extremely tight and tense. Barbara needed to work on improving her posture in order to keep up with the demands of her hectic work schedule. After starting Personal Training sessions with Trainer Ida and working towards her goals, she has seen a lot of improvement in the last couple years!
Getting into a training routine
Barbara trains twice a week with one session focusing more on strength and cardio, and the other focusing on her posture issues and stretching. When she first started training, Barbara wanted to gain more flexibility and strength throughout her whole body. She now feels like she has achieved that original goal, and wants to keep improving even further in all areas of her fitness. Barbara likes the fact that her Trainer makes every session different than the previous one. Even though she has her set days for strength training and stretching sessions, her workout routines are always varied from week to week. Barbara says she's never liked exercise that much, but she has gotten used to her weekly training routine and couldn't imagine life without all the benefits regular exercise offers!
The whole team at Fitness Enhancement are very encouraging. The simple things like walking through the studio door and everyone says hi, regardless if they are my designated Trainer or not. Great service!
Favourite exercise:
None. I really don't like exercising that much (but I know I need to do it). My favourite part of the training session is laying down on the mat to have a stretch and the feeling you get from a good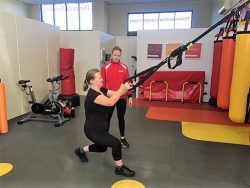 workout!
Least favourite exercise:
Cardio, I feel like I can't keep going on. But then my Trainer pushes me and I am able to get through it!
Future goals:
To continue to improve my strength and flexibility with Personal Training.
*Individual results may vary