Personal Training
Since starting training in January 2017, client Luke has achieved some amazing results! Luke started up with Fitness Enhancements Trainers Ida and Olivia as he was feeling uncomfortable being overweight. He wanted to lose at least 20 kg and feel comfortable and happy with what he saw in the mirror.
Getting results
Soon after starting with our trainers, Luke began to notice results from the training sessions and his new healthier eating habits. Currently, Luke trains 3 days a week at our 100% private Personal Training studio. He has lost 25 kg so far, which is 5 kg more than his initial goal! Luke is down 3 clothing sizes and feels good about his health and lifestyle. He has made the training sessions a part of his weekly schedule and routine and truly enjoys learning different techniques and new exercises in order to watch his body transform even further.
Future goals
Luke's trainers challenge him with different exercises each week, to make sure he keeps working hard towards his goals. Luke enjoys weight training the most, but knows he needs to get a bit of cardio in as well! His favourite exercise is a barbell squat and lately, he's been getting into running too even though is not one of his favourite cardio routines to do. Luke is always up to new challenges and plans to continue his training sessions next year. Check what new goals Luke has set for next year from below!
Luke says:
A big thank you to my trainers Ida and Olivia for motivating and pushing me further than I would have myself to help me achieve amazing results.
Favourite exercise:
My favourite exercise is squats with 60kg on the bar. It's amazing how your butt and legs transform from a simple exercise.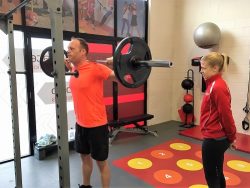 Least favourite exercise:
Running… Need I say more. Thanks Ida for pushing me to run even when I really don't want to.
Future goals:
My next goal is to get abs next year. A six pack would be awesome.
*Individual results may vary