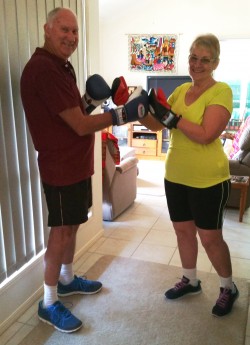 Carole and Les did their first Personal Training session with Fitness Enhancement 7 years ago, and since then they've made it a weekly routine that is now a normal part of their life.
7 years since the first session
When Carole was recovering from breast cancer, their daughter asked if Carole and Les wanted to join a gym or do some Personal training. They chose Personal Training and now it has been over 7 years since their first session. Their daughter and son paid for a number of introductory sessions, and since then Carole and Les have continued to do weekly sessions in their home with a trainer. When they started the training their main aim was to improve their overall fitness as they were planning to do some overseas travelling, along with  also  helping to maintain a healthy weight. Having a PT come to their house has proved very convenient and it also means that they have to show regular weekly commitment.
Squat toilets and long walks
Carole and Les have coped well with their overseas travels, some of it has been rather challenging, for example squat toilets in China, long flights, and long days of walking especially in South America. They are still planning more trips and want to keep improving on their fitness as they age. Both of them enjoy boxing in their sessions, and Carole's favourite exercise is squats whereas Les prefers the plank. During their 7 years of PT, Carole and Les have had a few different trainers and each trainer has had their own style and personality. All of them have been understanding of their age and limitations while still keeping them motivated.  Although this started as a 50 week experiment, they have realised the benefits they've gained and  hope to be able to continue with Personal Training into the future.
Disclaimer: Individual results may vary
More success stories
Check out some of our other client success stories including; Jen and Tom getting ready for their wedding, Chris winning over his flabby glutes, and Michelle fighting of Diabetes!